VIRUS PRENEUR : SINGLE MOTHER
Chusnul Rofiah

STIE PGRI Dewantara Jombang
Abstract views:
220
,
PDF (Bahasa Indonesia) downloads:
427
Abstract
Peran sebagai seorang ibu tunggal (single mother) adalah hal yang tidak diharapkan, namun apabila hal itu terjadi, maka wanita harus siap dalam segala hal termasuk kesiapan menopang perekonomian keluarga. Hal yang paling umum dilakukan adalah dengan bekerja tanpa meninggalkan perannya sebagai ibu dan kepala keluarga bagi anak-anaknya. Wirausaha adalah jawabannya. Penelitian ini bertujuan untuk menghadirkan pandangan dari para single mother baru tentang kegiatan wirausaha yang dilakukan para single mother. Penelitian ini menggunakan paradigma postpositivist dengan metode penelitian kualitatif dan pendekatan fenomenologi dengan desain Simple Research With Triangulation Theory. Hasil pemikiran baru yang diperoleh disajikan melalui diagram fishbone untuk membantu memudahkan pemahaman tentang pendirian dan pengembangan usaha single mother yang menghasilkan dua puluh tiga hal penting yang perlu dipersiapkan pada saat memulai mendirikan dan mengembangkan usaha bagi single mother. Hasil dari penelitian ini diharapkan menjadi bahan diskusi bagi para peneliti selanjutnya serta motivasi dan virus preneur bagi para wanita wirausaha khususnya single mother lainnya.
Downloads
Download data is not yet available.
References
Belcourt, M. L., Burke, R. J., & Lee-Gosselin, H. (1991). The glass box: Women business owners in Canada (Vol. 90, Issue 2). Canadian Advisory Council on the Status of Women.
Bérard, J., & Brown, D. (1994). Services to women entrepreneurs: The Western Canadian case. Western Economic Diversification Canada, Manitoba Office.
Deng, S., Hassan, L., & Jivan, S. (1995). Female entrepreneurs doing business in Asia: A special investigation. Journal of Small Business & Entrepreneurship, 12(2), 60–80.
Dwiyani, V. (2013). Jika aku harus mengasuh anakku seorang diri. Elex Media Komputindo.
Kalleberg, A. L., & Leicht, K. T. (1991). Gender and organizational performance: Determinants of small business survival and success. Academy of Management Journal, 34(1), 136–161.
Kompas TV. (n.d.). Selama Pandemi, Angka Perceraian Meningkat. Kompas TV. https://www.kompas.tv/article/153571/selama-pandemi-angka-perceraian-meningkat
Lavoie, D. (1992). Women in business: A collective profile. A Resource Guide to Selected.
________. (1988). Women entrepreneurs: Building a stronger Canadian economy. Canadian Advisory Council on the Status of Women.
Layliyah, Z. (2013). Perjuangan hidup single parent. The Sociology of Islam, 3(1).
Mancer, K. (1987). Entrepreneurial women in Manitoba: Options and opportunities. Women's Advisory Coucil.
Merdeka.com. (n.d.). Kemenag Sebut Angka Perceraian Mencapai 306.688 Per Agustus 2020. Merdeka.Com.https://www.merdeka.com/peristiwa/kemenag-sebut-angka-perceraian-mencapai-306688-per-agustus-2020.html
Olson, S. F., & Currie, H. M. (1992). Female entrepreneurs: Personal value systems and business strategies in a male-dominated industry. Journal of Small Business Management, 30(1), 49.
Rofiah, C. (2021). Qualitative Methods: Simple Research With Triangulation Theory Design. Develop, 5(1), 18–28.
Sarah. (2010). Thebaud.
Soernarnatalina. (1995). Stigma Negatif Janda.
Stevenson, L. A. (1986). Against all odds: The entrepreneurship of women. Journal of Small Business Management, 24, 30.
Sudin. (1982). Kehilangan Pasangan Hidup.
Sugiono. (2018). Metode Penelitian Pendidikan: Pendekatan Kuantitatif, Kualitatif dan R & D. Alfabeta.
Susane, E., J. (2007). Tampilnya Perempuan Pengusaha di Seluruh Dunia. UG Jurnal, Vol. 8 No.
Wee, C.-H., Lim, W.-S., & Lee, R. (1994). Entrepreneurship: A review with implications for further research. Journal of Small Business & Entrepreneurship, 11(4), 25–49.
Zimmerer, T. W., & Scarboroug, N. M. (2005). Essentials of entrepreneurship and small business management. Prentice-Hall.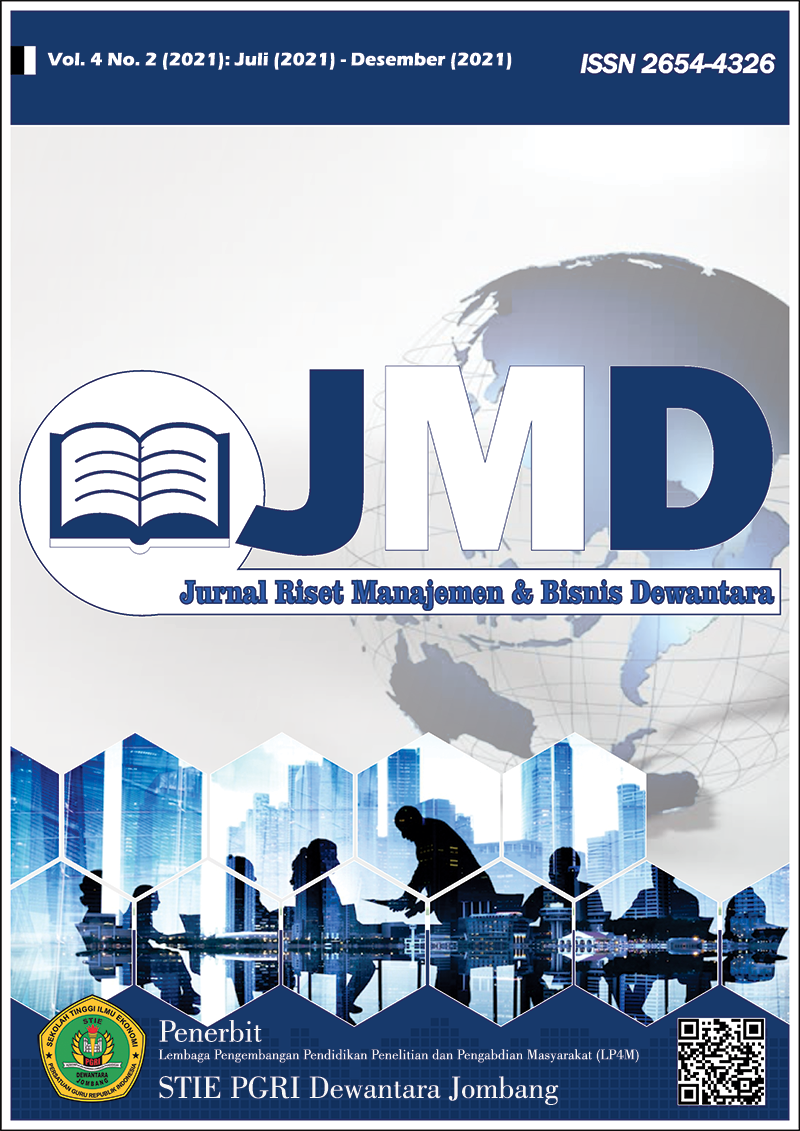 How to Cite
Rofiah, C. (2021). VIRUS PRENEUR : SINGLE MOTHER. JMD : Jurnal Riset Manajemen & Bisnis Dewantara, 4(2), 75 - 90. https://doi.org/10.26533/jmd.v4i2.787
Copyright (c) 2021 Chusnul Rofiah
This work is licensed under a Creative Commons Attribution-ShareAlike 4.0 International License.
Authors who publish with this journal agree to the following terms:
Copyright on any article is retained by the author(s).
The author grants the journal, right of first publication with the work simultaneously licensed under a Creative Commons Attribution License that allows others to share the work with an acknowledgment of the work's authorship and initial publication in this journal.
Authors are able to enter into separate, additional contractual arrangements for the non-exclusive distribution of the journal's published version of the work (e.g., post it to an institutional repository or publish it in a book), with an acknowledgment of its initial publication in this journal.
Authors are permitted and encouraged to post their work online (e.g., in institutional repositories or on their website) prior to and during the submission process, as it can lead to productive exchanges, as well as earlier and greater citation of published work.
The article and any associated published material is distributed under the Creative Commons Attribution-ShareAlike 4.0 International License