Pemanfaatan Digital Marketing Bagi Usaha Mikro, Kecil Dan Menengah Pada Era Masyarakat Ekonomi Asean
Mohamad Trio Febriyantoro

Debby Arisandi
Abstract views:
51008
,
PDF (Bahasa Indonesia) downloads:
90913
Abstract
Teknologi saat ini terus berkembang dan manfaat penggunaan internet terasa bagi para pemakainya. Beberapa orang merasa ketergantungan dengan adanya internet, termasuk aktivitas Usaha Mikro Kecil dan Menengah (UKM) dalam memanfaatkan teknologi informasi untuk menjalankan usahanya khususnya pada era Masyarakat Ekonomi ASEAN (MEA). Tujuan penelitian ini secara umum mendeskripsikan dampak digital marketing terhadap volume penjualan bagi pelaku UMKdi kota Batam. Penelitian ini berjenis kualitatif, dengan menggunakan model triangulasi, yang menggabungkan metode wawancara terstruktur, wawancara mendalam dan observasi terhadap pelaku UMKM yang terdaftar aktif di Dinas Pemberdayaan Masyarakat Pasar – Koperasi dan Usaha Kecil dan Menengah Kota. Dari hasil penelitian diketahui bahwa digital marketing memudahkan pelaku UMKM untuk memberikan informasi dan berinteraksi secara langsung dengan konsumen, memperluas pangsa pasar, meningkatkan awareness dan meningkatkan penjualan bagi pelaku UKM.
Downloads
Download data is not yet available.
References
Aditya wardhana. (2015). Strategi Digital Marketing dan Implikasinya Pada Keunggulan Bersaing UMKdi Indonesia. In Seminar Nasional Keuangan dan Bisnis IV (pp. 327–337). Universitas Pendidikan Indonesia.
Ali, H. (2013). Marketing dan Kasus-Kasus Pilihan. Yogyakarta: CAPS.
Arikunto, S. (2010). Prosedur penelitian : Suatu Pendekatan Praktik. (Edisi Revisi). Jakarta: Rineka Cipta.
Canavan, O., Henchion, M., & O'Reilly, S. (2007). The use of the internet as a marketing channel for Irish speciality food. International Journal of Retail and Distribution Management. https://doi.org/10.1108/09590550710728110
Chaffey, D., Chadwick, F. E., Mayer, R., & Johnston, K. (2009). Internet Marketing: Strategy, Implementation, and Practice. United States: Prentice Hall.
Febriyantoro, M. T. (2016). Pemikiran irasional para perokok. EKSIS, XI(2), 1907–7513.
Jumlah UMKbinaan Dinas PMP-KUMKkota Batam. (2016).
Kartajaya, H. (2009). New Wave Marketing. Jakarta: Gramedia Pustaka Utama.
Kasali, R. (2011). Cracking Zone. Jakarta: Gramedia Pustaka Utama.
Kemenperin. (2016). Pertumbuhan Ekonomi Dorong Ekspansi UMK. Retrieved from http://www.kemenperin.go.id/artikel/5774/Pertumbuhan-Ekonomi-DorongEkspansi-UMK
Kodrat, D. S. (2009). Membangun Strategi "Low Budget High Impact" di Era NeW wave Marketing. Jurnal Manajemen Bisnis, 2 No. 1, 59–86.
Kominfo. (2013). Kemkominfo: Pengguna Internet di Indonesia Capai 82 Juta. Retrieved from https://kominfo.go.id/index.php/content/detail/3980/Kemkominfo%3A+Pengguna+Internet+di+Indonesia+Capai+82+Juta/0/berita_satker
Kotler, P., & Keller, K. L. (2008). Manajemen Pemasaran (13 Jilid 1). Jakarta: Penerbit Erlangga.
Mokhtar, N. F. (2015). Internet Marketing Adoption by Small Business Enterprises in Malaysia. International Journal of Business and Social Science.
Moloeng, L. (2007). Metodologi Penelitian Kualitatif. Bnadung: PT Remaja Rosdakarya Offset.
Pradiani, T. (2017). Pengaruh Sistem Pemasaran Digital Marketing Terhadap Peningkatan Volume Penjualan Hasil Industri Rumahan. Jurnal Jibeka, 11(2), 46–53.
Sanjaya, R., & Tarigan, J. (2009). Creative Digital Marketing. Jakarta: Elex Media Komputindo.
Sellitto, C. (2004). Internet adoption by Australian wineries: Perceived benefits and direct marketing practices. International Journal of Wine Marketing. https://doi.org/10.1108/eb008779
Smith, K. T. (2003). The Marketing Mix Of Imc: A Move From The 4 P's To The 4c's. Journal of Integrated Marketing Communicatons, 1–3.
Stockdale, Ahmed, & Scheepers. (2012). Identifying Business Value from The Use of Social Media: An SME Perspective. Pacific Asia Conference on Information Systems. Association for Inforamtion System Electronic Library.
Sugiyono. (2009). Metode Penelitian Bisnis (Pendekatan Kuantitatif, Kualitatif, dan R&D). Bandung: Alfabeta.
Taiminen, H. M., & Karjaluoto, H. (2015). The usage of digital marketing channels in SMEs. Journal of Small Business and Enterprise Development. https://doi.org/10.1108/JSBED-05-2013-0073
we are social. (2017). Digital in 2017: Global Overview. Retrieved from https://wearesocial.com/special-reports/digital-in-2017-global-overview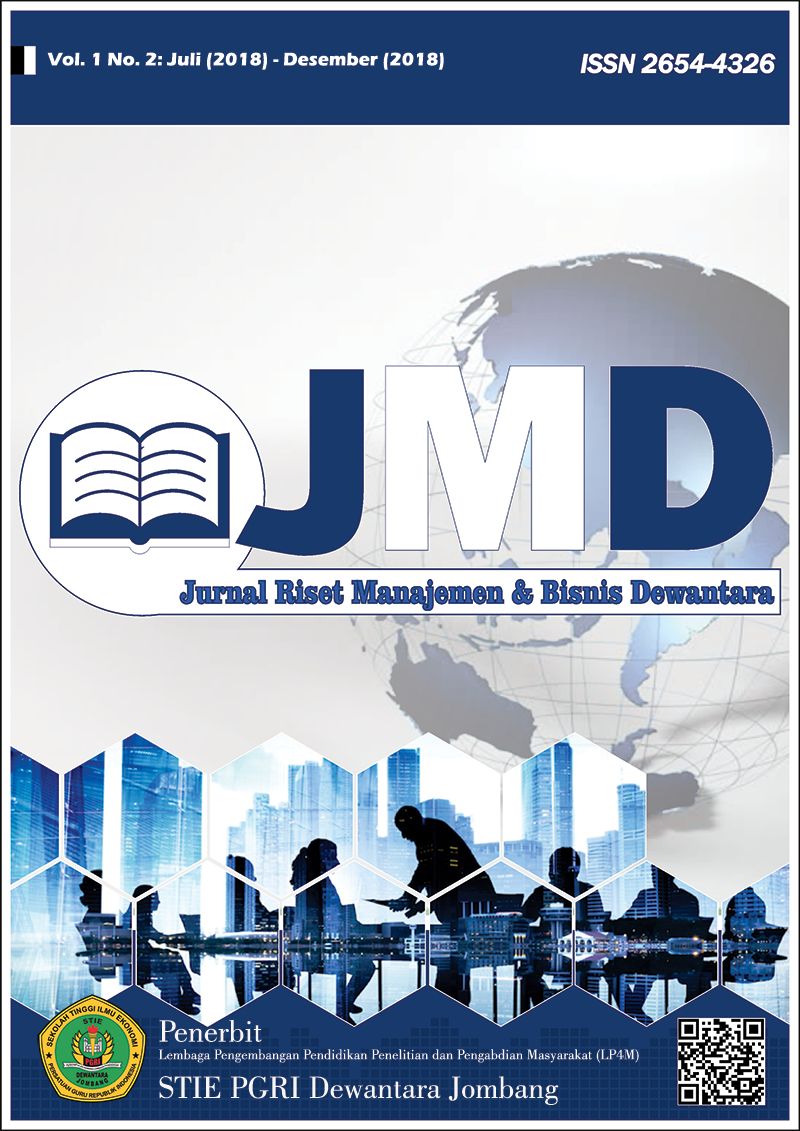 How to Cite
Febriyantoro, M. T., & Arisandi, D. (1). Pemanfaatan Digital Marketing Bagi Usaha Mikro, Kecil Dan Menengah Pada Era Masyarakat Ekonomi Asean. JMD : Jurnal Riset Manajemen & Bisnis Dewantara, 1(2), 61-76. https://doi.org/10.26533/jmd.v1i2.175
Authors who publish with this journal agree to the following terms:
Copyright on any article is retained by the author(s).
The author grants the journal, right of first publication with the work simultaneously licensed under a Creative Commons Attribution License that allows others to share the work with an acknowledgment of the work's authorship and initial publication in this journal.
Authors are able to enter into separate, additional contractual arrangements for the non-exclusive distribution of the journal's published version of the work (e.g., post it to an institutional repository or publish it in a book), with an acknowledgment of its initial publication in this journal.
Authors are permitted and encouraged to post their work online (e.g., in institutional repositories or on their website) prior to and during the submission process, as it can lead to productive exchanges, as well as earlier and greater citation of published work.
The article and any associated published material is distributed under the Creative Commons Attribution-ShareAlike 4.0 International License