Kehebatan Situs Belanja Daring dalam Mempengaruhi Emosi dan Kepercayaan Pembeli
Ibnu Harris

Universitas Universal Batam
Abstract views:
721
,
PDF (Bahasa Indonesia) downloads:
559
Abstract
Hampir semua generasi muda khususnya generasi Y (Gen Y) di Indonesia saat ini telah mengenal dan melakukan pembelian barang dan jasa secara daring (online). Hal ini tak lepas dari kemampuan situs belanja daring untuk menarik konsumen melalui berbagai promosi dan iklannya yang menjanjikan berbagai kelebihan belanja daring dibanding belanja secara konvensional, sehingga mampu menggugah emosi konsumen. Penelitian ini bertujuan untuk menguji faktor emosi (X1) dan kepercayaan (X2) terhadap orientasi belanja daring (Y).  Populasi dalam penelitian ini adalah anak muda di kota Batam belanja daring dan sampel dalam penelitian ini sebanyak 246 responden yang diambil secara acak (random sampling). Pengujian dilakukan menggunakan metode Structural Equation Modelling (SEM) dengan teknik Generalize Least Square (GLS). Hasil dari penelitian ini menunjukkan bahwa emosi dan kepercayaan terbukti sangat berpengaruh terhadap orientasi belanja daring khususnya bagi konsumen dikalangan muda.
Downloads
Download data is not yet available.
References
BIBLIOGRAPHY
Bilgihan, A. (2016). Gen Y Customer Loyality in Online Shopping: An Integrated Model of Trust, User Experience and Branding. Computers in Human Behavior, 61, 103-113.
Dennis, C., Merrilees, B., Jayawardhena, C., & Wright, L. T. (2009). E-Consumer Behavior. European Journal of Marketing, 42(9), 1121-1139.
Harris, I., & Fitriansyah, A. (2018). Pengaruh Efektivitas Diri Dan Spesifik Internet Terhadap Tingkat Ansietas Pengguna Internet. JMD: Jurnal Riset Manajemen & Bisnis Dewantara, 1(2), 97-108.
Hurlock, E. B. (2001). Developmental psychology. Tata McGraw-Hill Education Indriantoro, N., & Supomo, B. (2002). Metodologi Penelitian Bisnis untuk Akuntansi dan Manajemen. Yogyakarta: BPFE-Yogyakarta.
Monks, F. J., & Knoers, A. M. P. Siti Rahayu Haditono. 2002. Psikologi Perkembangan; Pengantar dalam berbagai bagiannya.
Mutiarni, R. (2017). Implementasi Electronic Data Processing Pada Koperasi Wanita. Eksis: Jurnal Riset Ekonomi dan Bisnis, 12(2), 135-148.
Naylor, G. S. (2016). Complaining Complimenting And Word-Of-Mouth in The Digital Age: Typology and Terms. https://www.researchgate.net/publication/313036749 (ss. 131-142). ResearchGate.
Prashar, S., Vijay, T. S., & Parsad, C. (2017). Effect of Online Shopping Values and Website Cues on Purchase Behaviour: A Study Using S-O-R Framework. The Journal of Decision Makers, 42(1), 1-18.
Reimer, T., & Benkenstein, M. (2018). Not just for the recommender: How eWOM incentives influence the recommendation audience. Journal of Business Research, 86(January), 11-21. doi:10.1016/j.jbusres.2018.01.041
Rumini, S., & Sundari, S. (2004). Perkembangan anak dan remaja. Jakarta: Rineka Cipta.
Sundaram, D. S., Mitra, K., & Webster, C. (1998). Word-Of-Mouth Communications: a Motivational Analysis. NA - Advances in Consumer Research, 25, 527-531.
Suryadi, B. (2015, May). Generasi y: karakteristik, masalah, dan peran konselor. Seminar dan Workshop Internasional MALINDO 4 di Bali, 22-23 Mei 2015. Diselenggarakan oleh Asosiasi Bimbingan dan Konseling Indonesia (ABKIN)Vajjhala, N. R., & Strang, D. K. (2018). Examining Internet Behavior of young Technology-Literate Consumers in India. Twenty-fourth Americas Conference on Information Systems. New Orleans.
Wu, W.-Y., Ke, C.-C., & Nguyen, P.-T. (2018). Online Shopping Behavior in Electronic Commerce: An Integrative Model form Utilitarian and Hedonic Perspectives. International Journal of Entrepreneurship, 22(3).
Zhou, L., Dai, L., & Zhang, D. (2007). Online Shopping Acceptance Model - A Critical Survey of Consumer Factors in Online Shopping. Journal of Electronic Commerce Research, 8(1), 41-62.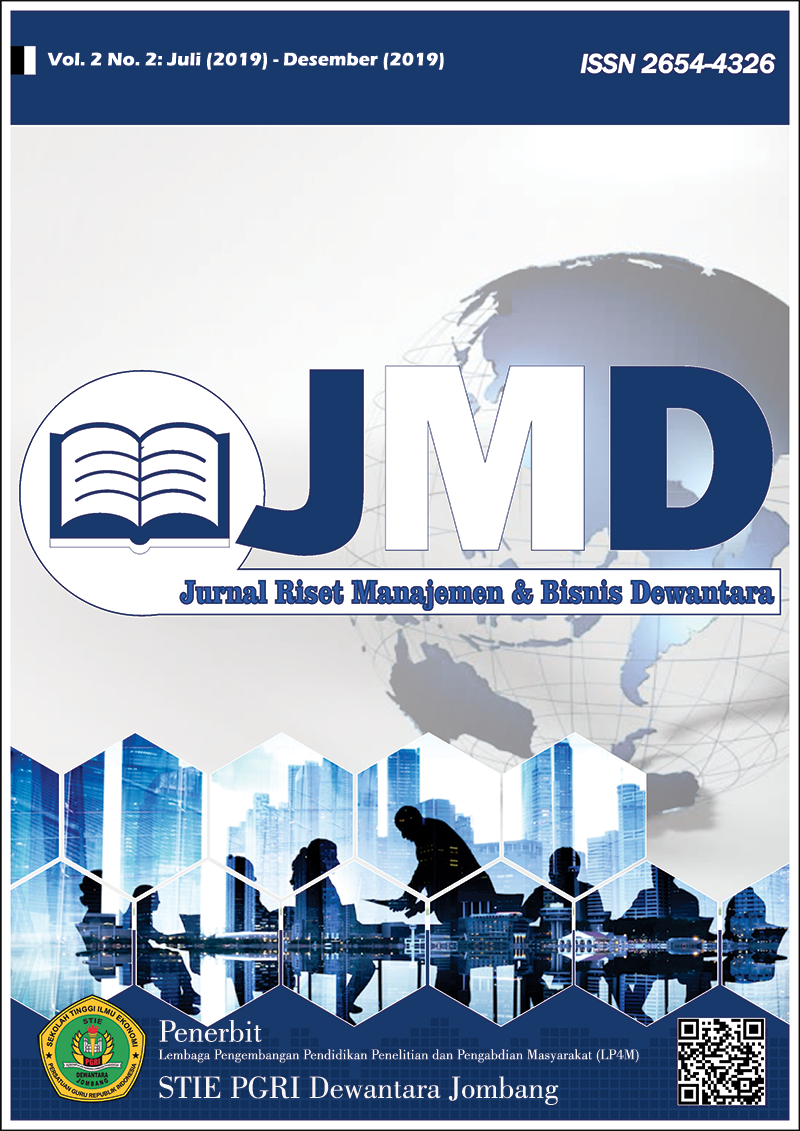 How to Cite
Harris, I. (2019). Kehebatan Situs Belanja Daring dalam Mempengaruhi Emosi dan Kepercayaan Pembeli. JMD : Jurnal Riset Manajemen & Bisnis Dewantara, 2(2), 81-88. https://doi.org/10.26533/jmd.v2i2.369
Authors who publish with this journal agree to the following terms:
Copyright on any article is retained by the author(s).
The author grants the journal, right of first publication with the work simultaneously licensed under a Creative Commons Attribution License that allows others to share the work with an acknowledgment of the work's authorship and initial publication in this journal.
Authors are able to enter into separate, additional contractual arrangements for the non-exclusive distribution of the journal's published version of the work (e.g., post it to an institutional repository or publish it in a book), with an acknowledgment of its initial publication in this journal.
Authors are permitted and encouraged to post their work online (e.g., in institutional repositories or on their website) prior to and during the submission process, as it can lead to productive exchanges, as well as earlier and greater citation of published work.
The article and any associated published material is distributed under the Creative Commons Attribution-ShareAlike 4.0 International License