ANALISIS PRODUK EFEK BERAGUNAN ASET SYARIAH DAN PERBANDINGANNYA DENGAN KONVENSIONAL
Nur Faizin Muhith

Universitas Negeri Malang

Aryo Prakoso

Universitas Jember

Nur Anisah

STIE PGRI Dewantara Jombang

Husnul Hatimah

Universitas Tadulako
Abstract views:
447
,
PDF (BAHASA INDONESIA) downloads:
1126
Keywords:
Asset-backed securities, Islamic asset-backed securities, CCI-ABSs
Abstract
This article is a literature review that aims to describe, explain, and answer in more detail the problems of conventional Asset-Backed Securities (ABS) and compare them with sharia ABSs. From the results of the literature review, it is known that conventional ABS and sharia ABS are not much different in concept. Sharia ABS in its issuance is still based on sharia principles. Furthermore, there are two sharia ABSs, namely Collective Counter Investment (CCI), the second ABS issued by asset financial institutions. The difference between the two lies in the issuer and the assets that form the basis of the Islamic Securities issuer. The result of this paper is that it can increase literacy, especially in asset-backed securities products, and provide direction for further research.
References
Bapepam. (2008). Nomor: Kep- 493/Bl/2008 Tentang Pedoman Kontrak Investasi Kolektif Efek Beragun Aset (Asset Backed Securities)

Fatwa DSN-MUI NO:125/DSN-MUI/XI/2018 Tentang Kontrak Investasi Kolektif Efek Beragun Aset (KIK EBA) Berdasarkan Prinsip Syariah

Hurriyaturrohman. (2017). Kendala Penerbitan EBA Syariah di Perbankan Syariah. Neraca Keuangan: Jurnal Ilmiah Akuntansi Dan Keuangan, 1–10.

Giddy I. 2000. New Developments in Asset- Backed Securities, Johanessburg. South Africa: Workshop, Host Excellante International.

Keng T. Y. and Ting K. H. 2004. The Development of Asset Securitization in Malaysian 10th Pacific RIM. Real Estate Society Annual Conference.

Majelis Ulama Indonesia. (2000). Fatwa DSN MUI Nomor 10/DSN-MUI/IV/2000 tentang Wakalah
Majelis Ulama Indonesia. (2000). Fatwa Nomor: 11/DSN-MUI/IV/2000 tentang Kafalah

Majelis Ulama Indonesia. (2002). Fatwa Nomor 40/DSN-MUI/X/2002 tentang Pasar Modal dan Pedoman Umum Penerapan Prinsip Syariah di Bidang Pasar Modal

Majelis Ulama Indonesia. (2018). Fatwa DSN-MUI Nomor 121/DSN-MUI/II/2018 tentang Ibra'

Majelis Umala Indonesia. (2018). Fatwa Nomor 121/DSN-MUI/II/2018 EBA-SP Berdasarkan Prinsip Syariah

Muslih. (2018). Efek Beragun Aset Surat Partisipasi (EBA-SP) Berdasarkan Prinsip Syariah. LABATILA: Jurnal Ilmu Ekonomi Islam, 2(1), 96–107.

Peraturan OJK No. 11 /POJK. 03/2019 Tahun 2019 tentang Prinsip Kehati-Hatian dalam Aktivitas Sekuritisasi Aset bagi Bank Umum [JDIH BPK RI]

Peraturan Otoritas Jasa Keuangan 20/POJK.04/2015 tentang Peraturan Otoritas Jasa Keuangan tentang Penerbitan dan Persyaratan Efek Beragun Aset Syariah

Peraturan Otoritas Jasa Keuangan Nomor 23/POJK.04/2014 tentang Pedoman Penerbitan dan Pelaporan Efek Beragun Aset Berbentuk Surat Partisipasi Dalam Rangka Pembiayaan Sekunder Perumahan

Peraturan Otoritas Jasa Keuangan Nomor 31/POJK.05/2014 tentang Penyelenggaraan Usaha Pembiayaan Syariah

Peraturan Otoritas Jasa Keuangan Nomor. 23/POJK.04/2014 tentang tentang Pedoman Penerbitan dan Pelaporan EBA-SP.

Peraturan Otoritas Jasa Keuangan Nomor. 24/POJK.04/2014 tentang Pedoman Penerbitan dan Pelaporan EBA-SP

Peraturan Otoritas Jasa Keuangan Peraturan OJK Nomor 16/POJK.04/2015 tentang Ahli Syariah Pasar Modal.

Sugiyono. (2016). Metode Penelitian Kuantitatif, Kualitatif dan R&D. Bandung: PT Alfabet.

Siew, S.M. 2004. ABS Round-up 2003: Set for Strong Issuance of ABS and Structured finance Debt in 2004. RAM Structured Finance Ratings, 16 February 2004

Taufiqurrohman. (2016). Analisis Kebijakan Instrumen Investasi Efek Beragun Aset Syariah ( EBA Syariah ) Di Indonesia Di Indonesia Tahun 2016 (Skripsi). UIN SYarif Hidayatullah.

Touriq, M., & Dkk. 2010. Pengembangan Produk Syariah di Pasar Modal Sekuritisasi Syariah (Efek Beragun Aset Syariah). Halaman 15-75.

Wahyuni, M. A. (2018). Perbandingan efek beragun aset syariah dengan efek beragun aset konvensional. Nisbah, 4(1), 92–109.

Yusianti, Desycha. (2017). Penggunaan Akad Kafalah bi al- 'ujrah Pada Pembiayaan Take over Perspektif Hukum Islam. Maliyah vol. 07, no. 01, juni 2017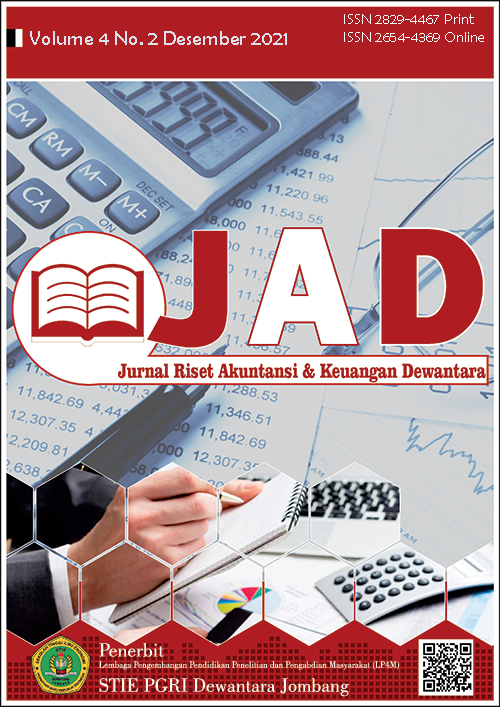 Authors who publish with this journal agree to the following terms:
Copyright on any article is retained by the author(s).
The author grants the journal, right of first publication with the work simultaneously licensed under a Creative Commons Attribution License that allows others to share the work with an acknowledgment of the work's authorship and initial publication in this journal.
Authors are able to enter into separate, additional contractual arrangements for the non-exclusive distribution of the journal's published version of the work (e.g., post it to an institutional repository or publish it in a book), with an acknowledgment of its initial publication in this journal.
Authors are permitted and encouraged to post their work online (e.g., in institutional repositories or on their website) prior to and during the submission process, as it can lead to productive exchanges, as well as earlier and greater citation of published work.
The article and any associated published material is distributed under the Creative Commons Attribution-ShareAlike 4.0 International License