Optimalisasi Program Corporate Social Responsibility pada Kinerja Keuangan dan Kinerja Sosial
Erni Widajanti

Universitas Slamet Riyadi Surakarta
Abstract views:
124
,
PDF (Bahasa Indonesia) downloads:
130
Abstract
Salah satu tanggang jawab sosial perusahaan terhadap masyarakat adalah ikut serta berpartisipasi untuk menyelesaikan masalah sosial masyarakat, khususnya disekitar wilayah perusahaan sebagaimana konsep Corporate Social Responsibility (CSR). Sebagai konsekuensi dari konsep CSR ini, kinerja perusahaan saat ini tidak lagi dinilai dari kinerja keuangannya saja, tetapi juga kinerja sosialnya. Penelitian ini bertujuan untuk mengeksplorasi implementasi CSR PT TASPEN dalam kaitannya dengan kinerja perusahaan dan kinerja sosial melalui Program Kmitraan dan Bina Lingkungan (PKBL). Jenis penelitian adalah studi kasus dan data yang digunakan adalah data sekunder berupa laporan tahunan PT TASPEN periode 2016-2018. Hasil penelitian menunjukkan bahwa pelaksanaan program PKBL dan CSR PT TASPEN berpengaruh positif terhadap kinerja keuangan dan kinerja sosial perusahaan.
References
Anonymous. (2016). Empowering sustainable growth to lead Social Security Service for Civil Servant. 484.
Anonymous. (2017). Accelerating Service and Business Enhancement for Civil Servant Welfare Insurance TENTANG LAPORAN TAHUNAN PT TASPEN ( PERSERO ) 2017. 879.
Anonymous. (2018). Creating value, Building trust. 928.
Bhardwaj.P, Prabirendra Chatterjee, K. D. D. and O. T. (2018). When and how is corporate social responsibility profitable? Journal of Business Research, 84(November 2017), 206–219. https://doi.org/10.1016/j.jbusres.2017.11.026
Carroll, A. B. (1991). The Pyramid of Corporate Social Responsibility : Toward the Moral Management of Organizational Stakeholders Wp. 39–48.
Chapple, W., & Moon, J. (2005). Business & Society. https://doi.org/10.1177/0007650305281658
Chung, Y. ., Jun, S., & Jaso, Y. (2018). Do CSR activities increase firm value? Evidence from the Korean market. Sustainability (Switzerland), 10(9), 1–22. https://doi.org/10.3390/su10093164
D'Amato, A., & Falivena, C. (2020). Corporate social responsibility and firm value: Do firm size and age matter? Empirical evidence from European listed companies. Corporate Social Responsibility and Environmental Management, 27(2), 909–924. https://doi.org/10.1002/csr.1855
Feng.M, Xiaodan "Abby" Wang, J. G. K. (2017). American Journal of Business Corporate Social Responsibility and Firm Financial Performance: Comparison Analyses across Industries and CSR Categories Article information. American Journal of Business, 32(3–4), 106–133.
Ikram, M., Sroufe, R., & Mohsin, M. (2020). Does CSR in fl uence fi rm performance ? A longitudinal study of SME sectors of Pakistan. 11(1), 27–53. https://doi.org/10.1108/JGR-12-2018-0088
Jung.S.L.H. (2016). The effects of Corporate Social Responsibility on profitability: the moderating roles of differentiation and outside investmen. Management Decision, 5.
Karpik, B. . and P. G. (1989). Determinants of the Corporate Decision to Disclose Social Information. In Accounting, Auditing & Accountability Journal (Vol. 2, Issue 1, pp. 36–51). https://doi.org/10.1108/09513578910132240
Kotler, P., & Lee, N. (2005). Corporate Social Responsibility - Doing the Most Good for Your Company and Your Cause. John Wiley & Sons, Inc.
Moura-Leite, R. C., & Padgett, R. C. (2011). Historical background of corporate social responsibility. Social Responsibility Journal, 7(4), 528–539. https://doi.org/10.1108/1747111111117511
Shabana, C. A. . and K. M. (2010). The business case for corporate social responsibility: A review of concepts, research and practice. International Journal of Management Reviews, 12(1), 85–105. https://doi.org/10.1111/j.1468-2370.2009.00275.x
Sial, M. S., Chunmei, Z., Khan, T., & Nguyen, V. K. (2018). Corporate social responsibility, firm performance and the moderating effect of earnings management in Chinese firms. Asia-Pacific Journal of Business Administration, 10(2–3), 184–199. https://doi.org/10.1108/APJBA-03-2018-0051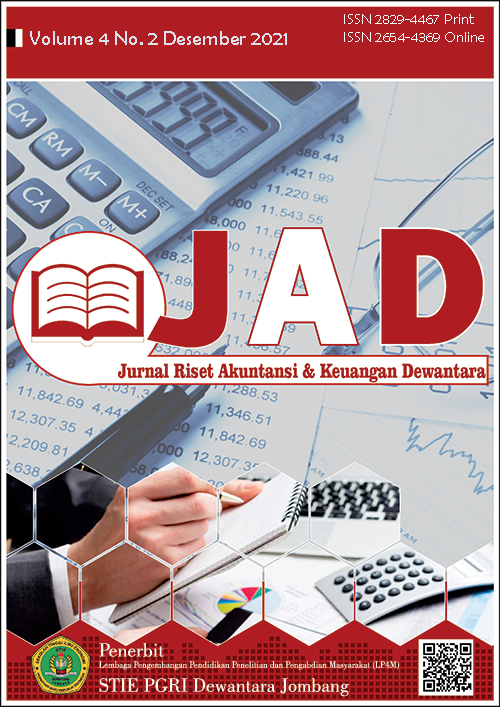 Copyright (c) 2021 Erni Widajanti
This work is licensed under a Creative Commons Attribution-ShareAlike 4.0 International License.
Authors who publish with this journal agree to the following terms:
Copyright on any article is retained by the author(s).
The author grants the journal, right of first publication with the work simultaneously licensed under a Creative Commons Attribution License that allows others to share the work with an acknowledgment of the work's authorship and initial publication in this journal.
Authors are able to enter into separate, additional contractual arrangements for the non-exclusive distribution of the journal's published version of the work (e.g., post it to an institutional repository or publish it in a book), with an acknowledgment of its initial publication in this journal.
Authors are permitted and encouraged to post their work online (e.g., in institutional repositories or on their website) prior to and during the submission process, as it can lead to productive exchanges, as well as earlier and greater citation of published work.
The article and any associated published material is distributed under the Creative Commons Attribution-ShareAlike 4.0 International License